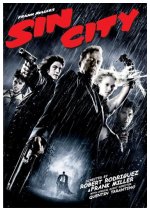 Ex-con Marv (Mickey Rourke) avenges a hooker's (Jaime King) death, Detective Dwight (Clive Owen) gets involved with hazardous vixens and a rogue cop (Bruce Willis) becomes hell-bent on saving a stripper (Jessica Alba) from a rapist (Nick Stahl) in interlaced stories adapted from Frank Miller's graphic novels. Director Robert Rodriguez's fantasy-infused, gritty film noir also stars Elijah Wood, Benicio Del Toro and Rosario Dawson.
Action, Adventure, Superhero, Thriller

10










Great movie to watch again and again. The only let down is how simplistic the premise is, even within the stories. I would have liked to see, either an additional hour or two separate movies.

10










Comic book come to life, good actions flick, ok writing.
27










I felt a bit let down by this movie, probably because it was over-hyped. Visually it was very true to the graphic novel flavor, and the story wasn't bad.