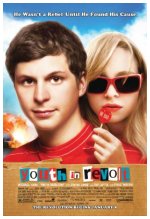 Nick Twisp (Michael Cera), a cynical, sex-obsessed teenager living a less-than-satisfactory existence, is pushed by the manifestation of his debonair, rebellious id (also Cera) to bed his dream girl, Sheeni Saunders (Portia Doubleday). Miguel Arteta directs this irreverent, dark comedy based on the popular novel series by C.D. Payne. Steve Buscemi, Ray Liotta, Justin Long, Fred Willard, Jean Smart, M. Emmet Walsh and Zach Galifianakis co-star.
Comedy

5










If you read the book you will be sorely disappointed by the movie. If you didn't read the book you'll like the coming-of-age comedy aspect but it won't be at the top of your list.

4










Liked the story, nice comedy but super bad IMO was much more funny then this. Also the ending to me kind of sucked I wanted to see more.

10










All around good comedy. There were indications some of the storyline was compressed but it didn't take away from the presentation. As typecast as Michael Cera may have been, it was obvious he fit the part.