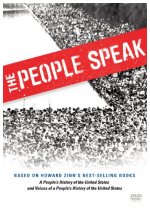 Inspired by historian Howard Zinn's "A People's History of the United States," a slate of top performers takes the stage to recreate the voices of American history's most eloquent dissenters, many of whom are excluded from traditional history books. The words of slaves, authors, politicians, poets, protesters and others come to life, courtesy of a cast that includes Don Cheadle, Sean Penn, Sandra Oh, Marisa Tomei, Benjamin Bratt and many more.
Documentary, History

10










The most defensible account of US history today. Taken entirely from letters and journals of the past and read by celebrities, this movie offers the information to the viewer with no slant and allows you to make up your mind.