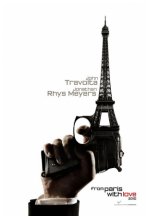 From Paris with Love
2010










While working at the American embassy in Paris, low-level intelligence agent James Reece (Jonathan Rhys Meyers) gets involved in espionage when he's pulled into a terrorist plot by high-ranking but uncouth American operative Charlie Wax (John Travolta), who's trying to stop it. Pierre Morel directs this fast-paced international thriller with a script by Luc Besson (The Professional, The Fifth Element) and Adi Hasak. Richard Durden also stars.
Action, Adventure, Spy, Thriller

15










Lots of CIA genre shoot em up action with outstanding Odd Couple chemistry between the male leads. Enough intrigue to keep your attention, but the exchanges between Travolta and Meyers are what made the movie memorable.

11










This movie kicked ass, awesome acting by John Travolta. This is hardcore action packed movie with a wonderful plot.
27










Straight up action nearly 100% of the time. If you make an action movie, this is how it should be done, and props to John Travolta for his excellent performance.