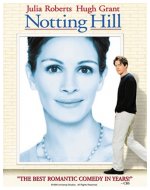 A chance encounter brings together diffident bookstore owner William Thacker (Hugh Grant) and Hollywood icon Anna Scott (Julia Roberts), who become smitten with each other until her megastardom begins whittling away at their relationship in this delightful romantic comedy. Can their love overcome pretense and the paparazzi? Rhys Ifans portrays Grant's dim-bulb, bedraggled flatmate in a scene-stealing turn.
Comedy, Foreign, Romance
27










Rhys Ifans is utterly hilarious. This film and
America's Sweethearts
are my favorite Julia Roberts movies. Great script, good acting - Delivers on both romance and comedy, which is pretty rare.