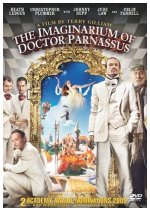 The Imaginarium of Doctor Parnassus
2009










Christopher Plummer and Heath Ledger star in this quirky fantasy from director Terry Gilliam. When a deal with the devil comes due, the immortal Doctor Parnassus (Plummer) must renegotiate the pact to save his daughter. Now, with the help of his mystical theater troupe and a mysterious stranger, Parnassus attempts to right the wrongs of his past. The Oscar-nominated film is Ledger's last, with Johnny Depp, Colin Farrell and Jude Law all completing his role.
Adventure, Fantasy, Sci-Fi
27










An excellent fantasy adventure, akin to a darker more modern Alice In Wonderland type tale. The cast is filled with stars, but Tom Waits manages to outperform them all. The ending is decent, though a bit anticlimactic.