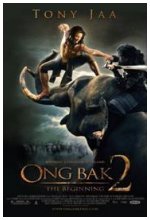 Ong Bak 2: The Beginning
2008










Tien (Tony Jaa), the son of Lord Sihadecho -- a tragically murdered nobleman -- goes under the wing of Chernang (Sorapong Chatree), a renowned warrior and leader of the Pha Beek Krut who teaches Tien a variety of deadly fighting styles. Now a master of weapons and combat, Tien seeks out those who slayed his family. Jaa also directs and Sarunyu Wongkrachang co-stars in this martial arts thriller set in 15th-century Thailand.
Action, Adventure, Foreign, Martial Arts

14










Wonderfully choreographed and brutally violent fight scenes are the showcase in this otherwise boring film about revenge in 15th century Thailand. Jaa is amazing, everything else is mediocre at best.