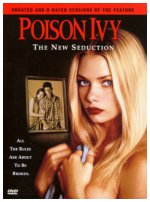 Poison Ivy 3: The New Seduction
1997










Home-wrecking beauties run in the family in this third tale of a temptress who uses her seductive powers to wreak havoc on the lives of innocents. As beguiling and evil as her sister Ivy, Violet (Jaime Pressly) returns to the childhood home from which she was banished due to the indiscretions of her housekeeper mother. Lady-of-the-house Joy (Megan Edwards) has no idea that Violet plans to seek revenge by seducing Joy's fiancé and father.
Thriller
27










A
much
more blatantly sexual take on
Poison Ivy
, with none of the lolita vibe of the original.