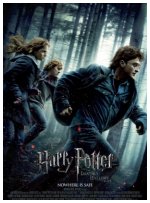 Harry Potter and the Deathly Hallows: Part I
2010










The first installment of the two-part conclusion to the Harry Potter series finds the bespectacled wizard (Daniel Radcliffe) walking away from his last year at Hogwarts to find and destroy the remaining Horcruxes, putting an end to Voldemort's bid for immortality. But with Harry's beloved Dumbledore dead and Voldemort's unscrupulous Death Eaters on the loose, the world is more dangerous than ever.

Book, Children, Fantasy, Sci-Fi

3










Very good movie.But the story was so weak that I disappointed.The movie only shows begining of Harry potter And the Deathly Hallows:Part 2
27










My least favorite movie so far - it seems like half the film is spent with Harry, Ron, and Hermione loitering around tents in random forests. It was also much less eventful and more melancholy than any of the previous films. Open ended, obviously.