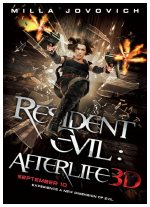 Resident Evil: Afterlife
2010










The Undead Apocalypse continues unabated as super-soldier Alice (Milla Jovovich) finds her way to a supposed sanctuary in Los Angeles, which may just be a deadly trap set for her by the ruthless Umbrella Corporation. The fourth film in Paul W.S. Anderson's blood-soaked saga finds Alice teaming up with Claire (Ali Larter) and Chris (Wentworth Miller) and a handful of stragglers to save what's left of humanity.

Action, Fantasy, Horror, Sci-Fi, Supernatural
27










They didn't even bother with a legitimate storyline in this film - it felt more like watching someone play a video game, only less entertaining. This series is steadily going downhill as they leave each movie open for a sequel.