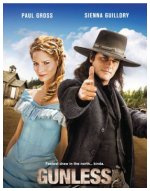 Fleeing the law, infamous bandit Montana Kid (Paul Gross) heads north to hide out in Barclay's Brush, Canada (population 17), where nobody seems to understand the code of the Old West. For starters, the gunfighter is amazed to find that nobody even owns a pistol. The Kid slowly warms to the town, and especially to the sassy and outspoken Jane (Sienna Guillory), but is forced to strap on his six-gun when the posse comes looking for him.
Action, Adventure, Western
27










Charming in its own way, I kept expecting this unconventional western comedy to have a surprise twist like
Purgatory
. Unfortunately it didn't, so the story seemed a bit slow with a merely passable conclusion. The cast was still entertaining though.