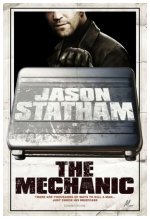 Jason Statham stars as an experienced hit man who decides he's ready to retire his weapons once and for all -- after he finishes training eager young apprentice Steve McKenna (Ben Foster) in the ways of the professional kill. But the assassin's bosses are not pleased when they discover their man is giving away his trade secrets. Simon West directs and Donald Sutherland co-stars in this action-packed remake of the 1972 Charles Bronson thriller.
Action, Adventure, Thriller
27










Could have been a cool assassin movie but they made it into a common Statham action flick instead. A precision killer that trains a guy who bungles every job and leaves enough evidence to convict a circus, yet never gets caught? Predictable ending.