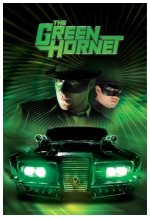 Seth Rogen and writing partner Evan Goldberg (Superbad) apply their trademark humor to the superhero genre in this big-screen action-adventure about a newspaper-publishing playboy (Rogen) who dons a disguise to fight crime after hours. As the Green Hornet, Britt Reid's power is no longer limited to the printed page -- and thanks to a nimble martial-arts expert (Jay Chou), he has the skills to expose the city's roughest criminals.
Action, Adventure, Martial Arts, Superhero
27










Far too much Seth Rogen - he made the green hornet look like a whiny buffoon. Sadly the rest of the film and cast were pretty decent - he single-handedly tanked this movie.