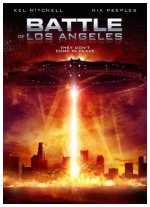 Battle of Los Angeles
2011










In this high-action mockbuster, a space craft appears over Los Angeles to threaten its citizens 70 years after a failed alien invasion. Facing off against the extraterrestrial threat is Karla (Nia Peeples), who commands a team of alien-fighting commandos. Kel Mitchell stars as a reluctant Air National Guardsman who joins the fight for humanity's survival. Mark Atkins (Shadow People) writes and directs.
27










Not to be confused with the film
Battle: Los Angeles
, this campy TV movie is terrible. I haven't seen CGI this bad since the 90's - and the plot and acting are bad as well. They even threw in combat with a samurai sword.