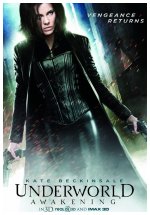 Underworld: Awakening
2012










Reprising her role as the vampire Selene, Kate Beckinsale stars in this installment in the stylish vampires vs. werewolves franchise. When humans discover the Vampires and Lycans, Selene escapes confinement to lead her clan in its ultimate battle.

Action, Adventure, Fantasy, Horror, Sci-Fi, Supernatural, Thriller
27










Let's just forget about the other two movies and pretend this is the second in the trilogy - because that's what it feels like.
Underworld
had more depth, this had more violence and a fairly open ending. Following the
Resident Evil: Apocalypse
series formula a bit now