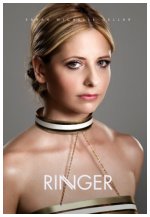 Sarah Michelle Gellar plays the dual role of estranged twins in this nail-biting dramatic series that finds one of them -- Bridget -- taking over the life of the other -- Siobhan, who's gone missing -- to save her own skin after witnessing a murder.
Drama, TV
27










I've liked Sarah Michelle Gellar in
Cruel Intentions
, but the acting and script quality are very bland in this show. It seems like they'll throw in an absurd
Alias
quality conspiracy to keep things vaguely entertaining.