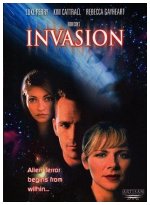 Humans start mutating into aliens in this taut science fiction thriller. The cause: Small rocks falling from the sky, which trigger a virus latent in every human being. The virus causes alien transformation, and it spreads fast. A group of scientists (Luke Perry, Kim Cattrall and Rebecca Gayheart) are running out of time in their attempt to save the world. They have an antidote, but can they administer it before the human race is overrun?
Book, Drama, Fantasy, Sci-Fi, TV, Thriller
27










It has the slow pacing and loose plot of a TV movie, but the good cast makes it watchable. Odd that only one guy changed appearance though.