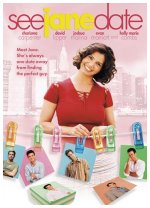 When her Aunt Ina (Linda Dano) orders her to find a suitable escort for a wedding that's just four weeks away, harried book editor Jane Grant (Charisma Carpenter) is forced to take a crash course in dating etiquette. But some of the Mr. Maybes she meets (including "Joe Millionaire" Evan Marriott) turn out to be Mr. Absolutely Nots. This made-for-television romantic comedy is based on Melissa Senate's novel by the same name.
Comedy, Romance, TV
27










Par for Lifetime - the actors manage to sound like they're reeling off a freshly memorized script for half the movie.
The Wedding Date
is one of many films to have done a similar plot far more convincingly.