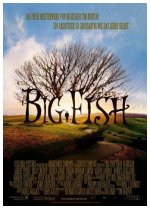 In this Tim Burton fantasy based on the novel by Daniel Wallace, William Bloom (Billy Crudup) tries to learn more about his dying father, Edward, by piecing together disparate facts from a lifetime of fantastical tales and legends of epic proportions. Ewan McGregor co-stars as the young Edward, a traveling salesman, with Albert Finney playing him as an older man. Helena Bonham Carter and Steve Buscemi also star.
Book, Drama, Fantasy

16










Tried a little too hard to be touching, and ended up just touching down. Good imagery, but poor storytelling. Ending left me very annoyed.