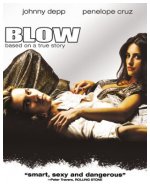 Johnny Depp turns in a quietly powerful performance at the heart of this Ted Demme-directed drama as real-life coke smuggler George Jung, who rises from poverty to become one of the biggest drug dealers in America before his eventual downfall. Penélope Cruz, Rachel Griffiths and Ray Liotta co-star in this big-screen adaptation of the 1993 book Blow: How a Small-Town Boy Made $100 Million with the Medellin Cocaine Cartel and Lost It All.
Biography, Book, Drama
27










A great cast bring this story to life. Possibly a bit too long, and obviously not a happy story, but still an interesting film.