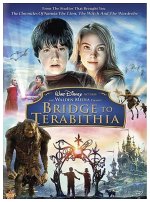 Bridge to Terabithia
2007










New classmate Leslie Burke (AnnaSophia Robb) unlocks a mesmerizing world of fantasy and imagination for fifth-grader Jesse Aaron (Josh Hutcherson) in this magical adventure based on the best-selling novel for young adults by author Katherine Paterson. The two outcasts, who are rivals at first, eventually become friends and create the make-believe kingdom of Terabithia, where they reign supreme and plot vengeance against school bullies.

Book, Children, Fantasy, Sci-Fi
27










A little too intense to be a kids movie, and not light enough to be truly enjoyable. The story returns to reality too frequently - unlike
The Neverending Story
, with which it shares some similarity. The CGI is weak/passable - but the cast is good.