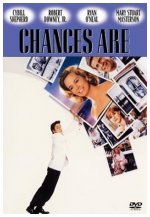 A celestial boo-boo sends soul-in-limbo Louie Jeffries into the body of Alex Finch (Robert Downey Jr.) in this heavenly romantic comedy. Louie lies dormant until Alex starts dating Miranda (Mary Stuart Masterson) -- the daughter of Louie's widow, Corinne (Cybill Shepherd). When Louie's memories are unleashed, Emile Ardolino's film gets as complex as a Shakespearian comedy, forcing all the players to sort out the remarkable events.
Comedy, Fantasy, Romance
27










Cybill Shepherd and Robert Downey Jr. play great together, making parts of this fun to watch. Unfortunately the beginning and end are rather goofy, but overall it turns out to be an alright film.