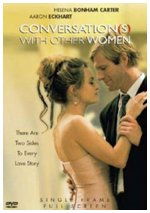 Conversations with Other Women
2005










Sparks fly at a wedding reception when a man (Aaron Eckhart) and woman (Helena Bonham Carter) with an ambiguous connection are reunited in this stylish romantic drama. As the layers of their past relationship gradually peel back, they rekindle a smoldering flame. Unable to contain their desire, they soon slip away to her hotel room -- but will passion give way to regret after the champagne wears off?
Drama, Indie, Romance
27










The split-screen filming is kind of neat. Basically the entire film is spent introducing you to the relationship these two people used to have, and who they are now.