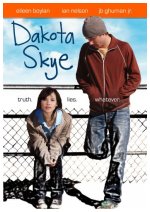 Superpowers rarely come without a price, and for 17-year-old Dakota Skye (Eileen Boylan), the price is cynicism that stems from spotting the truth in every lie. Disengaged, she watches life go by from the sidelines … until she meets the unfailingly honest Jonah (Ian Nelson). Problem is, Jonah is her beau's best friend -- which leaves Dakota navigating the treacherous waters between friendship and romance in this well-crafted indie drama.
Drama, Indie, Romance
27










Well filmed indie flick with an interesting premise. Definitely a character movie - there aren't any big events - it just follows the main character through several days of her life.