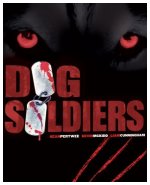 In Neil Marshal's directorial debut, a squad of soldiers is sent out on what should have been a routine military exercise in the wilds of Scotland. But the excursion turns into a waking nightmare when Sgt. Harry Wells (Sean Pertwee) and his men discover the bloody corpses of Capt. Richard Ryan's (Liam Cunningham) battalion. As the sun goes down, the soldiers are tracked by a pack of werewolves determined to feast on their flesh.
Foreign, Horror, Supernatural
27










The action is actually decent, and the acting is passable too. There are a couple plot items that don't work well, and the ending leaves a bit to be desired.