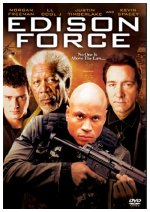 Justin Timberlake, in his feature-film debut, stars as a reporter fresh from journalism school who uncovers a hot story of lies and deception within the Edison police department, and does everything in his power to unravel it. Reluctantly helping him in his crusade are his jaded boss (Oscar winner Morgan Freeman) and an investigator (Oscar winner Kevin Spacey) who works for the city's smooth-talking district attorney (Cary Elwes).
Drama, Mystery, Thriller
27










With an excellent cast it's surprising they couldn't come up with a much better movie than this. Basically straight action.