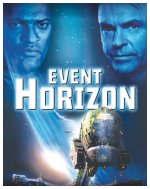 In 2040, an explorer vessel known as the Event Horizon went missing beyond deep-space boundaries. Seven years later, the ship sends a garbled signal back to Earth that sounds a lot like a cry for help. A rescue ship led by Captain Miller (Laurence Fishburne) is dispatched to investigate, but Miller's crew (including Sam Neill, Kathleen Quinlan and Joely Richardson) soon realizes the awful truth -- something unimaginable has happened on board.
Horror, Sci-Fi, Supernatural
27










Actually a really good SciFi movie until the end when they totally screwed up the story arc and flavor by going all 'god mode'.