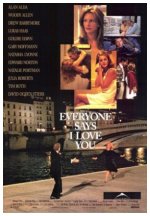 Everyone Says I Love You
1996










In director Woody Allen's Golden Globe-nominated musical comedy of intertwining stories, Steffi (Goldie Hawn) marries Bob (Alan Alda) after her divorce from Joe (Woody Allen), whose attempt to win the heart of Von (Julia Roberts) takes him to Europe. This is all told through the eyes of narrator DJ (Natasha Lyonne), Joe and Steffi's daughter, who's dealing with her own family issues as new stepsister Skylar's (Drew Barrymore) wedding is postponed.
Comedy, Drama, Indie, Musical, Romance
27










I wanted to shoot myself after three minutes of this movie. Contrived with musical numbers? Be serious. Woody Allen couldn't do better with this fantastic cast?