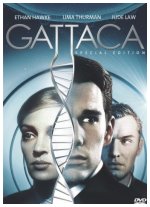 With one eye on his lifelong dream of working in outer space, a genetically flawed but determined "In-Valid" (Ethan Hawke) hires a DNA broker (Tony Shalhoub) to help him obtain more desirable genetic material from a paralyzed man (Jude Law). In the process, he meets and falls in love with a beautiful "Valid" (Uma Thurman) with a heart defect. Screenwriter Andrew Niccol also directs this futuristic thriller in his feature-length debut.
Drama, Fantasy, Sci-Fi, Thriller
27










A sad story about a world without hope for those who aren't genetically engineered. Not very fun to watch.