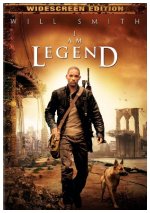 A terrible virus has spread across the planet and turned the human race into bloodthirsty monsters. Now, mankind's only hope for survival is scientist Robert Neville (Will Smith), the one person left unaffected by the epidemic. When he's not fighting for his life against the hordes of the infected, Neville searches for a cure to reverse the virus's effects -- all the while battling his own doubt and despair.
Action, Book, Disaster, Drama, Fantasy, Sci-Fi, Thriller

16










First half was fun and well-executed visually. But, the second half made less than zero sense, and became preachy to the extreme.