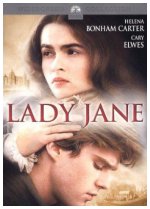 For nine politically charged days in 1553, protestant martyr Lady Jane Grey (Helena Bonham Carter) rules England against her will, thanks to a conspiracy concocted by a band of men bent on keeping the crown away from the Church of Rome. But when Princess Mary, the daughter of King Henry, assumes the throne, Lady Jane and her husband, Guilford Dudley (Cary Elwes), are imprisoned and sentenced to die.
Drama, Foreign, Romance
27










A solid historical drama. Helena Bonham Carter is charming as 15 year old Lady Jane Grey, and Cary Elwes is pretty good as well. The story is interesting enough, and seems to be fairly true to history.