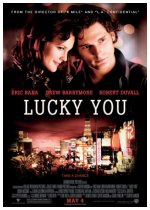 Eric Bana (Troy) stars as a gifted young poker player working to beat his personal demons and win the World Series of Poker in Las Vegas. In the process, he connects with a struggling musician (Drew Barrymore) and his obstinate father (Robert Duvall). A bevy of real-life poker aces, including Daniel Negreanu, Doyle Brunson, Marsha Waggoner and Jennifer Harman, co-star in this drama from Academy Award-winning director Curtis Hanson.
Drama, Romance, Sports
27










Laid back movie, pretty good acting, reasonable storyline. The poker playing interlude toward the end was a bit long, but overall a decent movie.