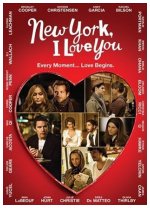 New York, I Love You
2009










A companion piece to Paris, je t'aime, this valentine to New York cleverly blends nearly a dozen love stories, each presented by a different filmmaker. From Central Park to Brooklyn and Queens, each tale features the Big Apple as a central character. The writer-directors include Natalie Portman and Brett Ratner, and the cast features Shia LaBeouf, James Caan, Julie Christie, Christina Ricci, Ethan Hawke and dozens more.

Comedy, Drama, Indie, Romance
27










Some of these weren't bad, others were horrible - Ethan Hawke was a hyperactive mess. I can't give it any credit for being a movie though, because it was a series of mostly unrelated vignettes in New York City which happens to be feature film length.