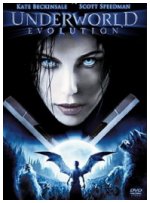 Underworld: Evolution
2006










Working together to expose the truth about their bloodlines, vampire warrior Selene (Kate Beckinsale) and werewolf hybrid Michael (Scott Speedman) learn the backstory to the ongoing conflict between the patrician Death Dealers and the barbarous Lycans. Len Wiseman helmed this atmospheric sequel to his 2003 debut film, Underworld, with Bill Nighy reprising his role as the father of modern-day vampires.

Action, Fantasy, Horror, Sci-Fi, Supernatural
27










The original
Underworld
was a good self-contained story that makes this movie feel like an attempt to turn what should have been a single movie into a series. The movie itself isn't horrible, but the story definitely isn't as compelling as the first.