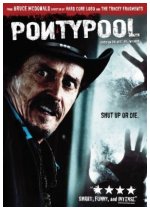 Valentine's Day is anything but ordinary for radio shock-jock Grant Mazzy (Stephen McHattie) when he stumbles into a crazed woman on the way to work. That's just the beginning as a lot of other people in the small Ontario town of Pontypool start acting awfully funny. Lisa Houle, Georgina Reilly, Rick Roberts and Hrant Alianak co-star in this genre-bending zombie pic directed by Bruce McDonald and based on the novel by Tony Burgess.
Book, Drama, Horror, Supernatural
27










Seemed like a cool premise, but ended up being strange and boring.