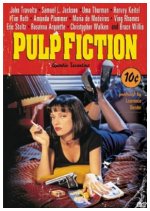 A burger-loving hit man (John Travolta), his philosophical partner (Samuel L. Jackson), a drug-addled gangster's moll (Uma Thurman) and a washed-up boxer (Bruce Willis) converge in this sprawling, comedic crime caper fueled by director and co-writer Quentin Tarantino's whip-smart dialogue. Their adventures unfurl in three stories that ingeniously trip back and forth in time, resulting in one of the most audacious and imitated films of the 1990s.
Drama, Indie, Thriller
27










I know it's somewhat of a classic, but I didn't find it particularly great. Clever, but not good.