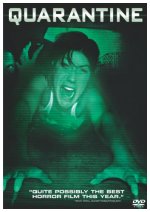 While on assignment shadowing firemen, a Los Angeles news reporter (Jennifer Carpenter) and her cameraman (Steve Harris) get trapped in a quarantined apartment complex with a vicious unknown killer. With all forms of communications cut, the news crew keeps the cameras rolling as they search for a way to escape rabies-infected zombies. John Erick Dowdle writes and directs this frenzied horror film that also stars Johnathon Schaech.
Horror, Sci-Fi, Supernatural
27










The beginning was interesting but off-topic. When the movie got around to the 'Quarantine' part it started dragging. The first-person shakycam effect is rarely a good idea for movies. Interspersing black frames to make it "scary" was rather lame too.