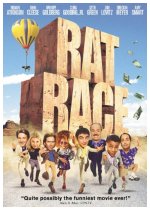 Loosely based on It's a Mad, Mad, Mad, Mad World, this comedic adventure from director Jerry Zucker starts with six couples assembled at the Las Vegas casino of Donald Sinclair (John Cleese) and ends at a train station in Silver Lake, N. M., where a satchel stuffed with $2 million awaits. Scheming slapstick rules the day as Owen (Cuba Gooding Jr.), Enrico (Rowan Atkinson), Merrill (Lanei Chapman), Vera (Whoopi Goldberg) and others go for broke.
Action, Comedy, Spoof
27










Plenty of slapstick, with a few good comic moments. The ending is such a cop-out that it totally ruins the movie for me.