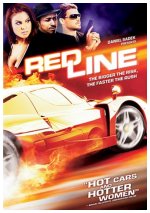 Fast cars and beautiful women are the order of the day in this auto racing thriller about an aspiring rock star and car fanatic who finds herself caught up in illegal drag races organized by a bunch of bored billionaires. Featuring its producer's exotic car collection (which includes a Phantom Rolls Royce and a rare Enzo Ferrari, which star Eddie Griffin accidentally crashed on set), Redline co-stars Nadia Bjorlin, Angus Macfadyen and Tim Matheson.
Action, Adventure, Drama, Sports, Thriller
27










The first part is standard fast cars and women, then it segues into a weird
Charlie's Angels
quality action.
The Fast and the Furious
series is a better choice if you want a racing flick with a story.