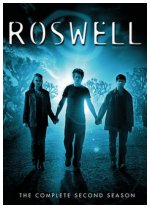 Famous for rumors of alien visitations, Roswell, New Mexico is full of lore. This popular series goes beyond lore and into everyday life, as aliens become teenagers, that exist alongside humans. Three alien-human hybrids (Jason Behr, Katherine Heigl and Brendan Fehr) have been sent to Earth to return to their own planet and save their race. In the meantime, they struggle with everyday teen issues in this mix of sci-fi and drama.
Drama, Fantasy, Sci-Fi, TV
Related Titles
Random Titles

6










Roswell was an excellent teen drama scifi show. The characters are all great, and each were very interesting and likable. Each story line was engaging and enjoyable. This show is definitely missed and still great. Definitely a must see.