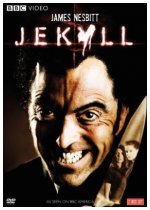 In modern-day London, Dr. Jekyll's last living descendant, Tom Jackman (James Nesbitt), carries on his famous ancestor's legacy. Tom believes he can control his dark side and protect his wife and children, but a secret society that's followed the Jekyll family line for a hundred years has plans for both halves of Tom's personality. Gina Bellman and Michelle Ryan co-star in this offbeat adaptation of Robert Louis Stevenson's classic.
Drama, Fantasy, Sci-Fi, TV

6










This version of Jekyll & Hyde story is extremely captivating, believable, and definitely one of the top mini-series. It's really a great story and the cast are all amazing.
27










Top notch mini-series with a great story and a perfect cast, except for Gina Bellman who tends to overact a bit in all the roles I've seen.