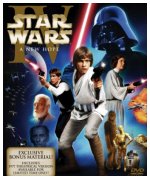 Star Wars: Episode IV - A New Hope
1977










Obi-Wan Kenobi (Alec Guinness) guides intrepid Luke Skywalker (Mark Hamill) on a valiant bid to save the captured Princess Leia (Carrie Fisher) from Darth Vader (voiced by James Earl Jones). With his trusty droids and smuggler Han Solo (Harrison Ford), Skywalker must also destroy the Galactic Empire's all-powerful weapon: the Death Star. George Lucas cemented his status as a pop-culture legend with this classic battle between good and evil.

Action, Adventure, Children, Classic, Fantasy, Sci-Fi

16










An important movie, and also luckily a good one! Lots of memorable scenes, music. I liked how the Force was more mysterious here than in V and VI.