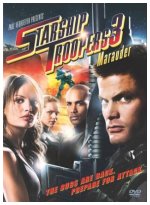 Starship Troopers 3: Marauder
2008










When a Federation starship crash-lands on the far-flung alien planet OM-1, its passengers, including Starship leader Sky Marshal Anoke (Stephen Hogan) and pilot Lola Beck (Jolene Blalock), find themselves stranded, and their only hope for salvation lies with Col. Johnny Rico (Casper Van Dien). Now, Rico -- the hero of Planet P's Bug Invasion -- must mobilize a team of Troopers for a death-defying rescue mission.

Action, Fantasy, Horror, Sci-Fi, Thriller
27










I feel like I'm watching a cut-scene from a video game like Red Alert for this entire movie.