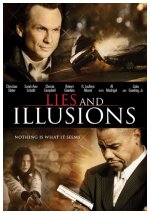 Best-selling author Wes Wilson (Christian Slater) has it all. But when menacing smuggler Isaac (Cuba Gooding Jr.) coolly insists that he take a chauffeured backseat ride, Wilson's charmed life explodes into a world of violence, espionage and stolen diamonds. As lies and illusions give way to a harsh reality, Wilson learns shocking truths about two women in his life. Sarah Ann Schultz and Christa Campbell co-star in this action-packed thriller.
Action, Adventure, Thriller
27










Relegated to the "movies so bad they're funny" bin. Nothing the least bit compelling or realistic - with atrocious acting and dialog, and a ludicrous plot. The action sequences resemble children playing cops and robbers.