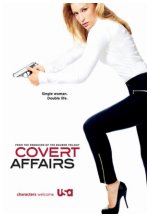 Bright, young and beautiful, Annie Walker (Piper Perabo) goes from CIA trainee to operative in the field in the blink of an eye, thanks to a gift for languages, a gung-ho attitude and top-notch investigative skills -- or so she thinks. The agency, however, may be more interested in her past than in her future. Helping Annie make sense of it all is fellow agent Auggie Anderson (Christopher Gorham), who was blinded in the line of duty.
27










Slightly reminiscent of
Alias
- but more realistic and without the sci-fi elements. The main cast is fairly good - Peter Gallagher is one of the weaker characters - and the episodes are varied enough to stay interesting.