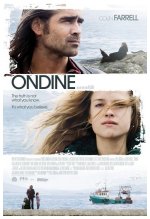 An Irish fisherman (Colin Farrell) hauls in an unexpected catch when a mysterious girl (Alicja Bachleda-Curus) gets tangled in his nets and soon affects the lives of everyone around her in this fantastical seaside tale from director Neil Jordan (Interview with the Vampire). Is it possible this beautiful stranger is a mythical sea nymph who's been summoned from the ocean's depths … or is she something far more common?
Drama, Fantasy, Foreign, Sci-Fi

15










Unfortunately, although I was drawn to the story line, I was not drawn to the actors' portrayals of the characters in this film, so it fell a little flat for me. Seemed more like a made-for-TV movie--just a bit too contrived. Worth watching though.
27










Excellent performances by Colin Farrell and the main characters. A sedate but enjoyable Irish tale about a woman from the sea, slightly marred by the ominous subplot but rescued by the mythology woven throughout. Felt vaguely similar to
Titanic