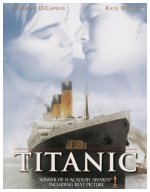 Winner of 11 Oscars, director James Cameron's effects-filled blockbuster weds the historical tale of the doomed ocean liner with a fictional romance between two of the ship's ill-fated passengers -- putting a human face on a tragedy of epic proportions. Society girl Rose Dewitt Bukater (Kate Winslet) and penniless artist Jack Dawson (Leonardo DiCaprio) struggle to survive both the sinking ship and the wrath of Rose's wealthy fiancé (Billy Zane).
Disaster, Drama, Romance
27










A decent love story ruined by a lot of unnecessary running around near the end - and a horrid ending.