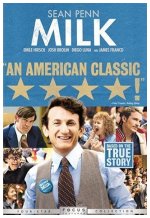 Sean Penn (in an Oscar-winning role) stars in this fact-based drama about Harvey Milk, the openly gay activist and San Francisco politician who was murdered along with Mayor George Moscone (Victor Garber) by disgruntled city supervisor Dan White (Josh Brolin) in 1978. Emile Hirsch, James Franco and Diego Luna co-star in director Gus Van Sant's compelling biopic, which also earned Oscar nods for Best Picture and Best Supporting Actor (Brolin).
Biography, Drama, GLBT, Indie

16










An alright movie, tends a bit towards the melodramatic, which lets the steam out of even the genuinely dramatic events it documents. Penn's performance is good.