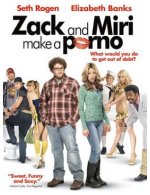 Zack and Miri Make a Porno
2008










When longtime platonic friends Zack (Seth Rogen) and Miri (Elizabeth Banks) find themselves in financial hot water, they hit upon the idea of making an adult film with amateur actors -- including themselves -- to bring in easy money. But when "action" is called, they discover their unspoken feelings for each other might threaten the whole enterprise. Writer-director Kevin Smith helms this comic look at the line between friendship and romance.
Comedy
27










I'd compare it to
When Harry Met Sally
, but it really doesn't compare. Seth Rogen seems to give all his movies a heavy dose of gradeschool humor - or maybe it's the type of movies he picks.