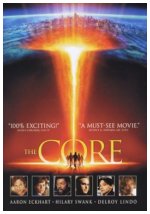 The Earth's inner core has stopped spinning, and scientist Josh Keyes (Aaron Eckhart) must discover the cause before the world literally falls apart. He and a group of brilliant researchers burrow deep into the Earth's center in a subterranean vessel piloted by Maj. Beck Childs (Hilary Swank) and Col. Robert Iverson (Bruce Greenwood). There, they'll detonate a device that they hope will get the world to turn again ... before it's too late.
Action, Adventure, Disaster, Fantasy, Sci-Fi, Thriller
27










A reasonably fun, though slightly ludicrous sci-fi adventure. Hilary Swank and DJ Qualls are the best, though the whole cast is reasonably good.